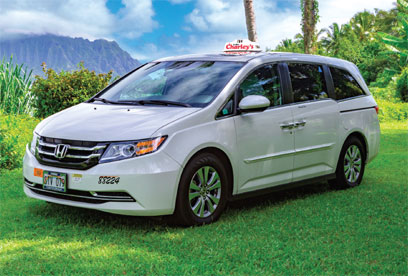 Medicab
MediCab is a safe, convenient way for you or a loved on to be on time for medical appointments.
You can count on Charley's Taxi for reliable and trustworthy medical taxi service. Lots of Oahu families rely on us to take their kupuna to and from doctor's appointments, dialysis, and physical and occupational therapy. Our specially trained drivers provide door to door service and can assist with picking up prescriptions.
Call takers are ready to help you make arrangements 24/7 at 808-233-3333. You can also make a MediCab reservation online, just click this link.
Please tell the call taker about any special needs so that we can assign the best driver and provide a folding wheelchair if needed. If you book online, please enter "MediCab" in the "Pickup instruction" text box.
For the return trip, please ask a nurse to call us 10-15 minutes before you're ready to leave.
Costs:
Taximeter rate of elapsed time and distance (discounted for seniors and those with special needs)
$5 door-to-door escort fee (ground floor)
$5 additional for escort to upper floors
$5 additional to pick up/return wheelchair, if needed
Coming from the Neighbor Islands? We can pick you up at the airport as well. Airport security rules require a little extra communication for pick-ups. Please see this page for more information.
Please note:
MediCab is not an ambulance service. Drivers are not paramedics or caregivers and do not lift, carry, or push customers.
At single family homes, service begins and ends at the front door. At apartment buildings the driver may enter the main lobby.
When transporting elderly customers who need continuous assistance, we like to confirm that someone is waiting to receive the customer at drop-off.
We do not transport mobility scooters.
Transportation services are not chargeable to Medicaid unless specifically authorized.
Tax and gratuity not included.