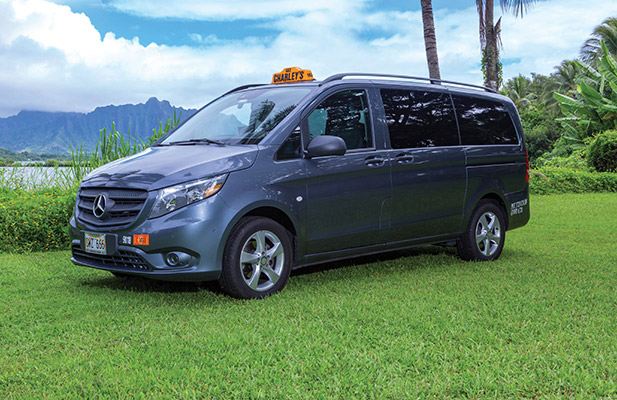 Car Rental Alternative
There's more than one way to visit all of Oahu's wonderful sights. For those who plan a lot of daily roaming, a rental car is your obvious choice of transport. However, Charley's Taxi offers a more economical alternative if you don't need a car every day of your stay.
Consider the average cost of a 7-day full-sized sedan rental:
7-DAY RENTAL
| | |
| --- | --- |
| Average full-size sedan rental | $566 |
| Parking | $245 |
| Gas | $97 |
| TOTAL | $908 |
Alternatively, Charley's Taxi can take you from the airport to your hotel, and back. We can also take you to and from Pearl Harbor. Consider us your on-call chauffeur. If you still want to get out and see Oahu on your own, a 2-day car rental is a good option.
CHARLEY'S TAXI PLUS RENTAL CAR
| | |
| --- | --- |
| Roundtrip airport transfer with Charley's* | $58 |
| Pearl Harbor roundtrip with Charley's* | $78 |
| Average full-size sedan rental (2-day) | $190 |
| Parking | $70 |
| Gas | $45 |
| TOTAL | $441 |
With $467 in savings, you get more money for things you enjoy.
You can book your Flat Rate Airport Transfer here, or call 808-233-3333 to make a reservation.
You can also download our App here:
Discounted Flat Rates are one way, per car, and do not include extra stops or route deviations. Driver will charge regular meter rate for the trip if any extra stops or route deviations are requested. Valid for up to 4 passengers with bags (1 suitcase & carry-on per person). No other discounts apply. No other discounts apply. Gratuities and G.E. Tax not included.
Due to traffic congestion and delays, Charley's Taxi will suspend Flat Rates and revert to taximeter rates on Halloween, Black Friday, and New Year's Eve (from 3pm on 12/31 to 3am on 1/1). We may also suspend Flat Rates 2 hours before, during, and 2 hours following major Holidays, Sporting Events, Concerts, and major road closures.
$5.00 extra charge for each bicycle, golf bag, surfboard or items over 80 pounds, or over 10 cubic feet in size. Driver will charge $5.00 each for additional terminal drop-offs. Passengers who damage or soil the taxi will be responsible for a $350 cleaning fee.