ABOUT CHARLEY'S TAXI
Charley's Taxi was founded in 1938 by Charles and Helen Morita. Since then we've provided the highest standard of transportation, innovated new services, and honed our logistics to continually strive for excellence.
We believe Aristotle figured out what "excellence" really means more than 2,000 years ago:
"Excellence is never an accident. It is always the result of high intention, sincere effort, and intelligent execution; it represents the wise choice of many alternatives–choice, not chance, determines your destiny."
— Aristotle (384-322 BC)
As a 3rd generation, woman-owned business, we are proud to be Hawaii's premier transportation provider.
Highest Standards
Our drivers must pass rigorous safety evaluations:
Traffic abstract review
Ride-along road evaluation
Background check
Doctor's physical exam and lab tests to assess physical and mental fitness
INS work authorization
Once on board, Charley's drivers receive the most thorough training of any transportation company in Hawaii, including
Safe Driving classes, including training in a highly advanced driving simulator
Taxi Talk in Japanese
Sexual Harassment avoidance, Community Policing and multi-cultural protocols
Body Mechanics and how to assist people with Special Needs (ADA compliance)
Post-accident evaluation & counseling
Request a driver and vehicle to suit your needs
Our high standards and technology enable us to offer something unique to Hawaii. When you call us to arrange a taxi you can request very specific attributes for both driver and vehicle. For example, you can ask for a Japanese-speaking driver with a minivan who is Tour-qualified. Or how about a VIP-qualified driver who speaks French? Please bear in mind that the more specific your request gets the fewer drivers will match. In that case it may take a bit longer to find and assign a driver.
Following is a list of attributes from which you can select:
Vehicle Attribute Options:
Executive Taxi
Luxury Town Car
Leather Seats
Sedan
Minivan (up to 6 passengers)
Small SUV (up to 4 passengers)*
Large SUV (up to 6 passengers)*
Stretch Limousine*
Driver Attribute Options:
Fluent Japanese-Speaking*
Partial Japanese-Speaking*
Korean-Speaking
Vietnamese-Speaking
Cantonese-Speaking
Mandarin-Speaking
German-Speaking
French-Speaking
Russian-Speaking
Spanish-Speaking
OliOli-qualified
Tour-qualified
VIP-qualified
Local Driver
MediCab-qualified
Jumper Cables
Female Passenger Requesting Female Driver
Best of all, your request will not cost any more than the standard rates, with these exceptions: $10 for a Japanese speaking driver and SUVs and Limousines are subject to a $25-$45 surcharge on the standard meter, flat, or charter rate.
World-leading technology
We deploy the most advanced transportation technology you'll find anywhere in the world. Our mission is to make booking a taxi as convenient, easy and simple as possible for everyone. We provide a range of straightforward booking options:
Just call 233-3333. No matter how advanced our technology, you can always call us to request a taxi, whether you need it now or want to make a reservation.
We offer Apple and Android Apps with which you can easily book a taxi to your current location, make a reservation, track the progress of your taxi on a live map, and receive important notifications with key information about your taxi.
We offer online booking with a simple form.
However you book a taxi, our system springs into action to send you a car quickly. And once you're on your way with Charley's Taxi our trained drivers and technology work together to make sure you receive the highest quality service. All Charley's Taxis are equipped with:
Netradyne connected smart camera system with forward/rearward video and audio.
900 MHz Motorola TRBOnet Radio on a proprietary channel, which means no static and no interference.
High speed credit card terminal with contactless payment. Cash is also welcome.
Security system to alert dispatchers in case of emergency, accident, or health issue.
Inspected, certified, and tamper proof taximeter, which calculates fares based in distance and elapsed time.
GPS Tracking.
Verizon mobile service.
If you should leave something behind, our tracking database will quickly find your taxi to return your valuables.
We employ this technology to reduce waiting times, ensure fast routing to your destination, provide fast in-car credit card payments, and enhance security for you and your valuables.
Community Leadership and Service
We believe strongly in the values of aloha. Since 1998 Charley's Taxi has provided free transportation support for the Visitor Aloha Society of Hawaii (VASH). The organization's mission is "to share aloha with visitors who have been victims of a crime or other adversities, and to provide follow-up assistance and support in an effort to create a positive memory of their stay in our islands."
Trusted Transportation Provider
Thanks to a decades long reputation for integrity, innovation and maintaining the highest standards of customer service, Charley's Taxi is the trusted transportation partner for many local, national, and international companies.
CONTACT US
OUR FLEET
The majority of our fleet consists of late model minivans, perfect for families.
We also offer SUVs, Sedans, Limousines, Sprinter vans, and motor coaches — but no compact cars.
Our vehicles are less than 5 years old.
No matter which vehicle type you ride in, all are inspected regularly for both safety and cleanliness.
For your safety, all vehicles are equipped with internet-connected HD, 2-way cameras.
For your convenience, all vehicles are equipped with fast and secure credit card terminals which accept contactless payment.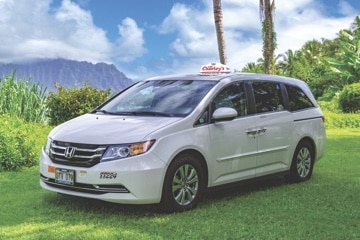 Minivans
Carry up to 5 passengers without luggage and up to 4 passengers with 1 checked bag and 1 carry-on each.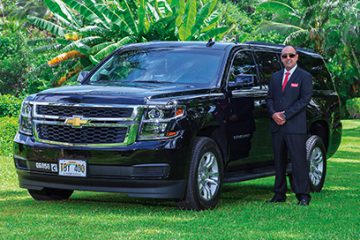 SUVs
Carry 4-6 passengers with 1 checked bag and 1 carry-on each.
SUVs are subject to a surcharge of $25-45 in addition to the Flat Rate or meter fare.
You may also call our Concierge at 808-947-0077  or 808-479-3869 to arrange an SUV.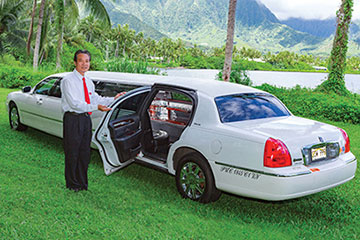 Limousines
Carry up to 7 passengers with 1 checked bag and 1 carry-on each.
You may also call our Concierge at 808-947-0077  or 808-479-3869 to arrange a Limousine.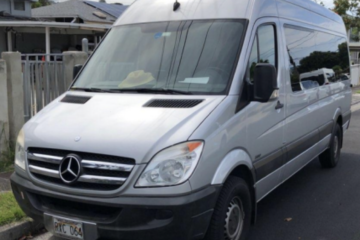 Sprinter Vans
Carry up to 8 passengers with 1 checked bag and 1 carry-on each.
You may also call our Concierge at 808-947-0077  or 808-479-3869 to arrange a Sprinter Van.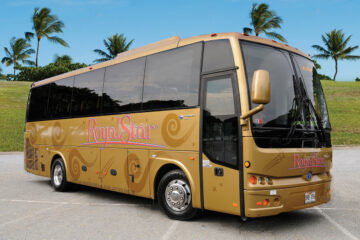 Motor coaches
Carry up to 55 passengers with 1 checked bag and 1 carry-on each.
Please call our Concierge at 808-947-0077  or 808-479-3869 to arrange a motor coach.