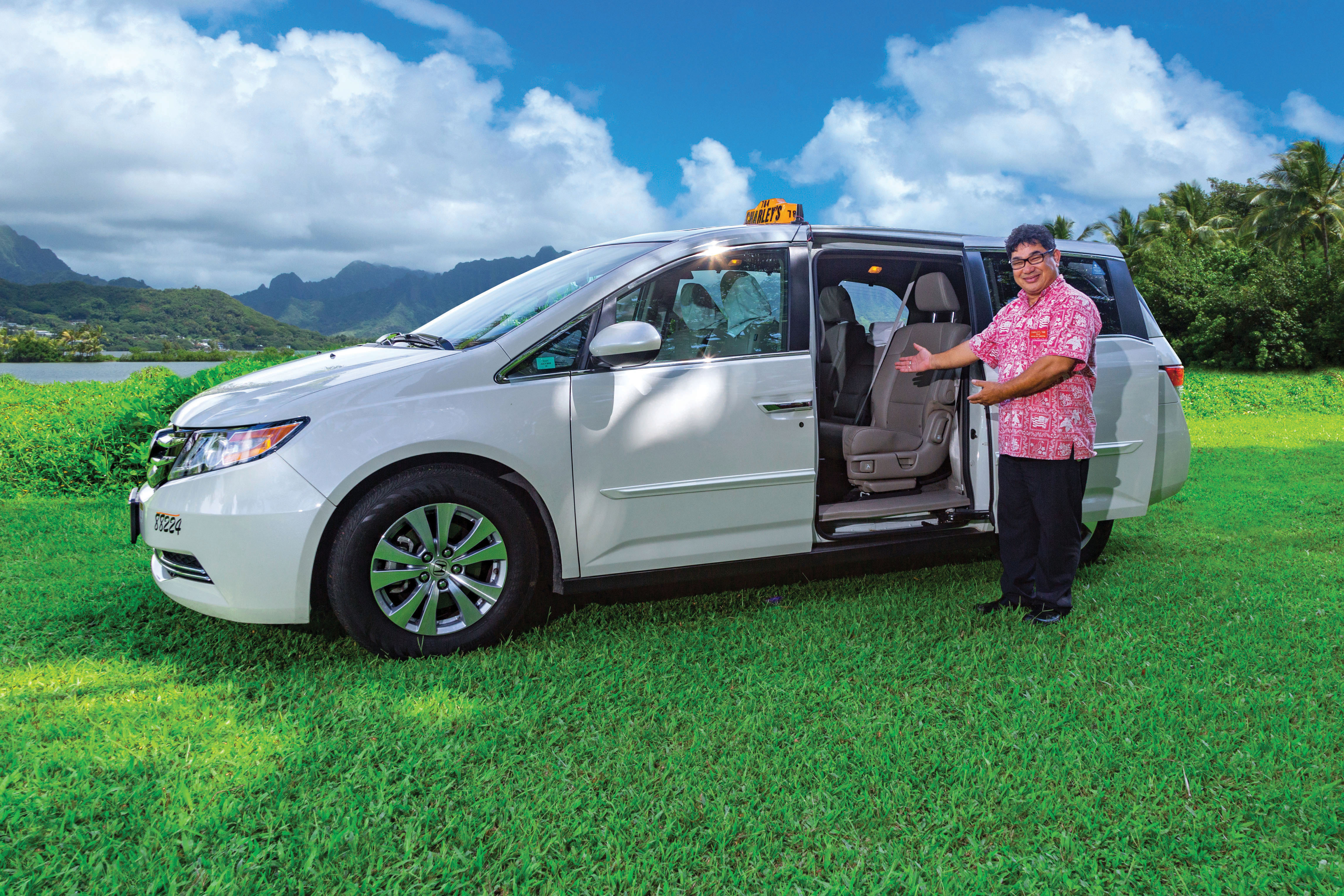 Charley's Taxi is the fastest and most cost effective way to go to and from Honolulu International Airport. Unlike the shuttle services, which charge per person, Charley's Taxi charges per car, so you can have multiple passengers for the price of one. We'll take you directly to your destination, no driving all over Waikiki, going from hotel to hotel, like the shuttles.
We offer three ways to go: very economical Flat Rates, SUV Flat Rates, and our full service VIP experience.
Please refer to our Enhanced Cleaning Protocols and mask requirements.
WHEN SHOULD YOU HEAD TO THE AIRPORT?
Charley's Taxi recommends arriving at the airport 2 hours prior to domestic flights and 3 hours prior to international flights to account for traffic delays and long lines for agriculture screening, flight and baggage check-in, and TSA security. During slow times you may breeze through all of those, but when it gets busy you'll be glad you got there so early. Charley's Taxi is not responsible for missed flights.
TAXI FLAT RATES
Advance reservations are recommended to ensure prompt service upon arrival.
Charley's Taxi Flat Rates are discounted from the regular meter rate and are a great way to go to and from the Airport. You'll save money and enjoy peace of mind because these discounted, fixed rates don't change if there's bad traffic. You'll save time because we'll take you directly to your hotel, unlike the shuttles.
| | |
| --- | --- |
| Waikiki: | $29 (Typical meter is $35-45) (check map) |
| Aulani: | $55 (Typical meter: $75-90) |
| Turtle Bay Resort: | $89 (Limited time offer. Typical meter: $145) |
---
Our Waikiki and Aulani Flat Rates to or from the Airport have been so popular with visitors that we're offering Flat Rates to anyone in these areas: Kalihi Kai, Likelike/School Street, Downtown, Kakaako, UH Manoa Campus, Makiki/McCully, and Manoa. Please check the map links below to see if your Airbnb, home, or office is within one of the zones. If it is, you can count on a discounted Flat Rate to or from the airport. Here are the areas and their flat rates:
PLEASE CALL OR TEXT ON ARRIVAL
The Airport's strict Taxi rules limit where drivers can pick you up and how long they can wait. For more information about Airport arrivals, please click here.
EXTRA CHARGES
Flat Rate fares do not include G.E. Tax, Airport Pick-up tax, City and State Park fees, or parking fees incurred in the process of providing transportation.

$5.00 extra charge for each bicycle, golf bag, surfboard or items over 80 pounds, more than 4ft in length, or over 10 cubic feet in size.
Waikiki SUV FLAT RATES
Our SUV Flat Rates are designed to take you to or from the airport in style and comfort with the assurance of a rate that won't change no matter the traffic.
We offer a variety of vehicles to choose from.
You can book online or call our Concierge at 808-947-0077.
If you book online, a Concierge will contact you to confirm your reservation and take payment.
| | |
| --- | --- |
| Vehicle Options | Rate |
| 4-passenger SUV | $75 |
| 6-passenger SUV | $100 |
Make your Waikiki SUV Flat Rate reservation here
VIP FULL SERVICE AIRPORT PACKAGES
We offer VIP Full Service Airport packages to Waikiki and Ko Olina with a variety of vehicle options. Reserve your ride and relax in your own private minivan, SUV, or limo. Our driver will meet your party with a luggage cart and a Paging Sign displaying your party's name. Leis are available for an extra charge.
On the ride to your hotel, driver provides complimentary chilled bottled water, oshibori (hand towel) for each passenger, and a souvenir bag for the ladies. You'll also receive a Departure Reminder Card noting your return pick-up.
DOMESTIC FLIGHT SERVICES
INTERNATIONAL ARRIVALS, add $25 — meet outside of F.I.T. Gate
| | | |
| --- | --- | --- |
| Waikiki Rates | Arrival Only | Round Trip |
| Minivan | $110 | $190 |
| SUV | $135 | $255 |
| Sprinter Van | $180 | $335 |
| SUV Limousine | $180 | $335 |
| | | |
| --- | --- | --- |
| Ko Olina Rates | Arrival Only | Round Trip |
| Minivan | $150 | $250 |
| SUV | $165 | $307 |
| Sprinter Van | $205 | $382 |
| SUV Limousine | $205 | $382 |
VEHICLE OCCUPANCIES
Minivan: up to 6 (4 with bags)
SUV: up to 6 with bags
Limousines: up to 7 with bags
Sprinter Vans: up to 8 with 8 bags
Navigator SUV Limousine: up to 7 with 7 bags
EXTRA OPTIONS
MOTORCOACH, MINIBUS, VAN available — request quote.
Fresh leis: $12 each
Upgraded leis: Market price
EXTRA CHARGES: $5.00 extra charge for each bicycle, golf bag, surfboard or items over 80 pounds, or over 10 cubic feet in size.
Wheelchairs are available by advance request for $10 each. Please specify nature of special needs so we may assist you better.
Passengers who damage or soil the taxi will be responsible for a $350 cleaning fee.
PACKAGE PRICES INCLUDE
Fare between Honolulu International Airport and your hotel. Round trip service also available.
4.712% State of Hawaii General Excise Tax
7% Pre-Arranged Ground Transportation Pick-Up Fee (Hawaii DOT)
3% Greeter Fee (Hawaii DOT)
Garage Parking Fee (Hawaii DOT)