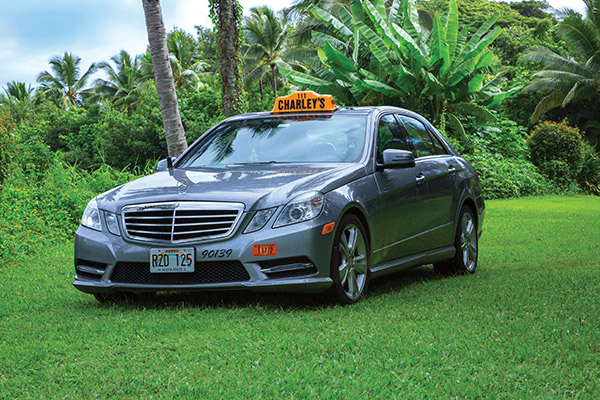 Shuttle Alternative
Just because you're on vacation doesn't mean you have to spend more. That's why using Charley's Taxi to and from the airport is not only more economical than shuttles; it's the smart alternative.
| | |
| --- | --- |
| CHARLEY'S | SHUTTLE |
| Flat rate of $29 per vehicle | $29.10 for 2, $58.20 for 4 |
| Leave when you want | Pick up at hotel 4 hours before flight |
| Direct to and from airport, no stops | Multiple hotel stops |
| Private ride just for your party | Share van with strangers |
Save your time and money for more important vacation things with Charley's Taxi.
You can book your Flat Rate Airport Transfer here, or call 808-233-3333 to make a reservation.
Discounted Flat Rates are one way, per car, and do not include extra stops or route deviations. Driver will charge regular meter rate for the trip if any extra stops or route deviations are requested. Valid for up to 4 passengers with bags (1 suitcase & carry-on per person). No other discounts apply. Gratuities and G.E. Tax not included.
Due to traffic congestion and delays, Charley's Taxi will suspend Flat Rates and revert to taximeter rates on Halloween, Black Friday, and New Year's Eve (from 3pm on 12/31 to 3am on 1/1). We may also suspend Flat Rates 2 hours before, during, and 2 hours following major Holidays, Sporting Events, Concerts, and major road closures.
$5.00 extra charge for each bicycle, golf bag, surfboard or items over 80 pounds, or over 10 cubic feet in size. Driver will charge $5.00 each for additional terminal drop-offs. Passengers who damage or soil the taxi will be responsible for a $350 cleaning fee.
$5.00 Surcharge from Midnight to 5AM.