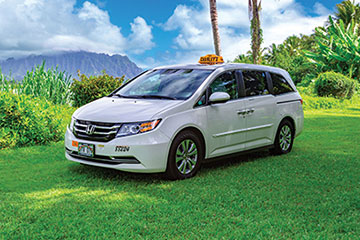 TAXICABS
Taxicabs are available at metered, hourly, or flat rates.
FEES AND TAXES
Many transportation companies impose fees that we don't believe in. Here are some examples of fees that you won't see with Charley's Taxi:
NO surge pricing, EVER!
No "Booking Fee" ($1.50)
No "Safe Ride Fee" ($1.50)
No "Late Fee" ($5 after 2 minutes)
No "No-Show Fee" ($5 after 5 minutes)
No "Credit Card Fee" ($3.00)
No "Mandatory Tip" (20%)
Seniors, military, people with special needs, and all Emergency Responders get a 15% discount on the meter rate. Discount does not apply to Flat Rates.
Charley's Taxi does pass on:
Parking fees. For example, at hospitals, businesses, and the airport,
City and State "Destination" taxes. For example, at Aloha Stadium, Pali Lookout, Moanalua Gardens, Diamond Head.
Airport Pick-up Tax (for pick-up service only): 7% State tax is added to the final* meter or flat rate fares.
State General excise tax: 4.712%.
Passengers who damage or soil the taxi will be responsible for a $200-350 cleaning fee.
* "final fare" means the meter fare after discounts are applied for military, seniors, persons with special needs, or kama'aina. ID Is required for discounts. Discounts are not applicable to flat rates.
OUR FLEET
The majority of our fleet consists of late model minivans. For comfort, we also offer a range of SUVs — but no compact cars. No matter which vehicle type you ride in, all are inspected regularly for both safety and cleanliness. For your convenience, all vehicles are equipped with fast and secure credit card terminals which accept contactless payment.
SUV
We offer a variety of vehicle types to suit your needs. You may arrange, by request, for an SUV. Requests for these vehicles, which are more expensive to buy and operate, are subject to a 15% gratuity and surcharges as follows:
Medium SUV: $25 surcharge in addition to the Flat Rate or meter fare.
Large SUV: 35 surcharge in addition to the Flat Rate or meter fare.
In some cases a large SUV like a Chevrolet Suburban, which can accommodate up to 6 passengers and 6 bags, can be less expensive than requesting two regular taxis.
Many of our drivers are fluent in Japanese and are also available by request.
GE Tax is not included.
Special requests are handled by AllWays Charleys.

LIMOUSINES, MOTORCOACHES, TROLLEYS AND MORE
Make a special occasion even more memorable. Luxury limousines come in various sizes and are equipped with video entertainment systems. Have a really big group? We can also coordinate buses and trolleys.
USEFUL NUMBERS
VISITOR ATTRACTIONS
AIRPORT, Flight & Visitor Info 836-6413
Aloha Stadium, Flea Market, 99-500 Salt Lake Blvd., 486-9300
Aloha Tower, Pier 10 537-9260
Bishop Museum, 1525 Bernice St. 848-4129, 847-3511
Byodo-In Temple, 47-200 Kahekili Hwy 239-8811
Chinatown Cultural Plaza, 100 N. Beretania St 521-4934
Chinese Consulate, 2746 Pali Hwy 595-6347
Contemporary Museum, 2411 Makiki Hts. Dr 526-0232
Dragon Garden Bonsai Nursery, 41-909 Mahailua St. Waimanalo 259-6886
Diamond Head Lookout
Diamond Head Theatre, 520 Makapuu Av 733-0274
Dole Pineapple Plantation, 64-1550 Kam Hwy., Wahiawa, 621-8408
Foster Botanical Garden, 180 Vineyard Bl 522-7065
Gunstock Ranch, 56-250 Kamehameha Hwy, 341-3995
Hanauma Bay, 7455 Kalanianaole Hwy, 396-4229 ext. 0
Hawaii Children's Discovery Centre, 111 Ohe St 524-5437,
Hawaii Convention Center, 1801 Kalakaua Av 943-3500
Hawaii Plantation Village, 94-695 Waipahu St 677-0110
Hawaii State Art Museum, 250 S Hotel 586-0300
Hawaii Theatre, 1130 Bethel 528-5535
Hawaii Visitors & Convention Bureauv, 2270 Kalakaua Av 923-1811
Hawaiian Railway Society, 91-1001 Renton Rd 681-5461
Hickam Air Force Base, 449-1083
Happy Trails Hawaii, 59-231 Pupukea Road, Haleiwa, 638-7433
Hawaii Nautical Inc., 46-471 Hololio St., Kaneohe, 234-7245
Honolulu Museum of Art, 900 Beretania 532-8701
Honolulu Zoo, 151 Kapahulu Av 971-7171
Ho'omaluhia Botanical Garden, 45-680 Luluku Rd 233-7323
Iolani Palace, 364 S King St 538-1471, 522-0832
Japanese Consulate, 1742 Nuuanu Av 543-3111
Japanese Cultural Center, 2454 S Beretania 945-7633
Kahuku Farms, 56-800 Kamehameha Hwy, 628-0639
Kahumana Organic Farm and Community, 86-660 Lualualei Homestead Road, 200-4732
Kaneohe Bay Cruise, Heeia Pier 235-2888
Kapiolani Park
Kewalo Basin
KO HANA Rum /  Manulele Distillery, 92-1770 Kunia Road, 649-0830
Ko Olina Ocean Adventures and Luau, Ko Olina Marina, 396-2068
Kualoa Ranch, Kaawa 237-8515
Lyon Arboretum, 3860 Manoa Rd 988-0456
Manoa Chocolate Hawaii, 333 Uluniu Street, 263-6292
Manoa Valley Theatre, 2833 E Manoa Rd 988-6131
Maui Divers Jewelry Center, 1520 Liona St 946-7979
Marriage License Bureau, 1250 Punchbowl St 586-4545
Mission Houses Museum, 553 S King 531-0481
Moanalua Gardens, 1352 Pineapple Pl 833-1944
Neal Blaisdell Center, 777 Ward Av 591-2211
Nuuanu Pali Lookout
Pacific Aviation Museum, Historic Ford Island 441-1000
Paradise Cruise, 1540 S. King, 983-7827
Pearl Harbor Navy Base, 449-7110
Polynesian Cultural Center, 55-370 Kamehameha Hwy. Laie 293-3333
Punchbowl National Cemetery, 2177 Puowaina Dr 532-3720
Queen Emma Summer Palace, 2913 Pali Hwy 595-3167
Sea Life Park. 41-202 Kalanianaole Hwy 942-3100, 259-7933
Senator Fong's Plantation, 47-285 Pulama Rd 239-6775
Shangri-La c/o Academy of Arts 532-8701
State Capitol
Sunset Beach, North Shore
Tantalus, Puu Ualakaa Park
UH East West Center, 1601 East-West Road, 944-7111
Stan Sheriff Center, University of Hawaii, Dole Street
U.S. Army Museum, Kalia @ Saratoga Rd 955-9552
U.S. Immigration & Naturalization Service, 595 Ala Moana Bl
U.S. Passport Service, State Dept. Federal Bldg 522-8283
USS Arizona Memorial 1 Arizona Memorial Place, 422-0561
USS Bowfin Submarine Museum, 11 Arizona Memorial Dr 423-1341
USS Missouri Memorial, Arizona Memorial Dr 973-2494
Wahiawa Botanical Garden, 1396 California Av 621-7321
Waikiki Aquarium, 2777 Kalakaua Av 923-9741
Waimanalo Beach Park
Waimea Valley Park, 59-864 Kamehameha Hwy, Haleiwa, 638-766
Wet & Wild Hawaii, 91-400 Farrington Hwy 674-9283
DINING
(B=Breakfast, L=Lunch, D=Dinner)
12th Avenue Grill, 1145 12th Ave. 732-9469
3660 On the Rise, 737-1177
Alan Wong's, 1857 S. King, 949-2526
Arancino Beachwalk, 255 Beachwalk, 923-5557
Assaggio, Ala Moana Center, 943-3446
Azure, Royal Hawaiian Hotel, 923-7311
Bali by the Sea, Hilton Hawaiian Village, 949-4321
Beachhouse at the Moana, 2365 Kalakaua Ave., 924-4799
Benihana of Tokyo, Hilton Hawaiian Village 955-5955 LD
Buzz's Original Steakhouse, 413 Kawailoa Rd., Lanikai 261-4661
Cafe Maharani, 2509 S. King St. 951-7447
Chart House, Yacht Harbor 941-6669 D
Chef Chai, 1009 Kapiolani Blvd., 585-0011
Chef Mavro, 1969 S. King, 944-4714
Duc's Bistro, 1188 Maunakea St., 531-6325
Duke's Canoe Club, Outrigger Waikiki 922-2268 BLD
Hard Rock Cafe, 280 Beachwalk, 955-7383
Hale Vietnam, 1140 12th Ave. 735-7581
Harbor Restaurant, Pier 38, 1129 N. Nimitz Hwy, 550-3740
Hoku's, Kahala Hotel 739-8780
House Without a Key, Halekulani Hotel 923-2311
Kincaid's Chops, Steaks, Ward Warehouse 591-2005 LD
La Mer, Halekulani Hotel, 923-2311
Liliha Bakery, 580 N Nimitz Hwy., 537-2488
Little Village Noodle House, 1113 Smith St., 545-3008
Maguro-ya, 3565 Waialae Av., 732-3775
Mariposa at Neiman Marcus, 951-3420 LD
Million Korean Restaurant, 626 Sheridan St. 596-0799
Miyako, New Otani Kaimana Beach, 921-7077
Morton's Steakhouse, Ala Moana 949-1300, 522-0832
MW Restaurant, 1538 Kapiolani #106, 955-6505
Nobu Honolulu, 1118 Ala Moana Blvd, 237-6999
Ono Hawaiian Food, 726 Kapahulu Ave., 737-9275
Orchid's, Halekulani Hotel, 923-2311
Outrigger Canoe Club, 2898 Kalakaua Av., 923-2585 BLD
Pacific Club, 1451 Queen Emma St., 536-0836 BLD
Paesano, Manoa Marketplace 988-5923
Pagoda Floating Restaurant, 1525 Rycroft St., 941-6611
Plaza Club, 900 Fort St. Mall, 521-8905 BLD
Plumeria Beach House, Kahala Hotel, 739-8761
Roy's, 6600 Kalanianaole Hwy, Hawai´i Kai 396-7697
Ruth's Chris Steak House, Restaurant Row, 599-3860
Ruth's Chris, 226 Lewers St., Waikiki, 440-7910
Ryan's Grill, Ward Center, 591-9132
Side Street Inn, 1225 Hopaka St. 591-0253
The Signature Prime Steak & Seafood, Ala Moana Hotel, 949-3636
Suntory, Royal Hawaiian Shopping Center, 922-5511
Surf Lanai, Royal Hawaiian Hotel, 923-7311
Sushi Izakaya Gaku, 1329 S. King St. 589-1329
Tango's Contemporary Café, 1288 Ala Moana Blvd., 593-7288
Vino Bistro & Wine Bar, Restaurant Row 524-8466
Waikiki Yacht Club, Ala Moana Park 955-4405
Willow's Restaurant, 901 Hausten, 952-9200
Yanagi Sushi, 762 Kapiolani Blvd., 597-1525
Yohei Sushi, 1111 Dillingham Blvd., 841-3773
GOLF
Ala Wai Golf Course, Kapahulu 296-4653
Bay View Golf Club, 45-285 Kaneohe Bay Dr 247-0451 x3
Coral Creek Golf Course, 91-1111 Geiger Rd, Ewa Beach 441-4653
Ewa Village Golf Course, 91-050 Ft. Weaver Rd 296-2000 x6
Hawaii Country Club, 94-1211 Kunia Rd 621-5654
Hawaii Kai Golf Course, 8902 Kalanianaole Hwy 395-2358
Hawaii Prince Golf, 91-1200 Ft Weaver Rd 944-4567
Hoakalei Country Club, 91-1001 Kaimalie St., Ewa Beach 853-4346
Honolulu Country Club, 1690 Ala Puumalu St 833-4541
Kapolei Golf Course, 91-701 Farrington Hwy 674-2227
Ko Olina Golf Club, 92-1220 Aliinui Dr 676-5300
Koolau Golf Course, 45-550 Kiomaole Rd 247-8873
Leilehua Golf Course, Bldg. 6505 Leilehua Rd Wahiawa 655-4653
Makaha Country Club, 84-627 Makaha Valley Rd 695-7111
Mid Pacific, 266 Kaelepulu Dr 261-9765
Mililani Golf Course, 95-176 Kuahelani Av 623-2254
New Ewa Beach Golf Course, 689-6565
Oahu Country Club, 150 Country Club Rd 595-3256
Olomana Golf Links, 41-1801 Kalanianaole Hwy 259-7926
Pali Golf Course, 45-050 Kam Hwy 266-7612
Pearl Country Club, 98-535 Kaonohi St 487-3802
Royal Hawaiian Golf Club, 770 Auloa Rd 262-2139 x1
Royal Kunia, 94-1509 Anonui 't 949-1088
Ted Makalena, 93-059 Waipio Access Rd 296-2000
Turtle Bay Resort, 57-091 Kam Hwy 293-8574
Waialae Country Club, 4997 Kahala Av 734-2151 x 221-3
Waikele Golf Course, 94-200 Paioa Pl 676-9000
West Loch Golf Course, 91-1126 Okupe 296-2000
SHOPPING
Ala Moana Shopping Center 946-2811
Aloha Tower Marketplace 566-2337
Cedar Street Galleries, 817 Cedar 589-1580
Chinese Cultural Plaza, Beretania & Maunakea 521-4934
DFS Galleria, 330 Royal Hawaiian Av 931-2655
Hilton Hawaiian Village 949-4321
Honolulu Pen Shop, 1857 S King 946-8968
Hula Supply Center, 1050 Ala Moana Suite 1000, 941-5379
Interior Accents, 560 N Nimitz Hwy., 523-5553
Kahala Mall, 4211 Waialae Avenue
Ka Makana Ali'i,  91-5431 Kapolei Pkwy, 628-4800
Kamaka Ukulele, 550 South St 531-3165
Manoa Marketplace 988-0520
Martin & MacArthur, Ala Moana Center 941-0074
Maui Divers Jewelry Center, 1520 Liona St 946-7979
McCully Shopping Center, McCully @ Kapiolani 955-7377
Neiman Marcus, Ala Moana Center 951-8887
Nohea Gallery, Ward Warehouse 596-8688
Pearl Ridge Center 488-0981
Restaurant Row 538-1441
Robyn Buntin Oceania & Asian Gallery, 848 S Beretania 523-5913
Royal Hawaiian Shopping Center 922-0588
Royal Hawaiian Heritage Jewelry, multiple locations
Waikele Premium Outlet 676-5656
Ward Centers 591-8411
Windward Mall Kaneohe 235-1143
GIFTS & GOODIES (OMIYAGE)
Akaka Falls Farm Lilikoi Butter
Kona's Earthly Delights Farm Lilikoi Butter
CRUISES & DINNER SHOWS
Alii Kai Catamaran Dinner Cruise
Blue Note Hawaii, Outrigger Waikiki, 2335 Kalakaua Av., 777-4890
Legends in Concert, Rock-A-Hula, Royal Hawaiian Theater, 2201 Kalakaua Bldg B, 4th Floor, 1-855-805-7469
Magic of Polynesia starring JOHN HIROKAWA, Holiday Inn Waikiki Beachcomber, 2300 Kalakaua Av., 539-9400
Star of Honolulu, 983-7827
Te Moana Nui, Pacific Beach Hotel, 441-4880
CHURCHES & CHAPELS
Aloha Ke Akua Chapel, 47-507 Kamehameha Hwy,
Watabe. Blue Lagoon, 2685 N Nimitz Hwy (behind DAV Ctr)
Calvary by the Sea, 5339 Kalanianaole Hwy 377-5477
Central Union Church, 1660 S Beretania 941-9057
Christian Science Church, 1508 Punahou 949-8403
Diamond Head 7th Day Adventist, 828 18th Av 737-1234
Honolulu Central 7th Day Adventist, 2313 Nuuanu Av 524-1352
Epiphany Episcopal, 1041 10th Av 734-5706
First United Methodist, 1020 S Beretania 522-9555
Gloria Garden, 3050 Monsarrat Av 735-5500
Haiku Gardens, 46-336 Haiku Rd .247-0605
Honolulu Community Church, 2345 Nuuanu Av 595-7541
Kawaiahao Church, 957 Punchbowl 522-1333
Latter Day Saints Church of Jesus Christ 737-5974
Makiki Christian Church, 829 Pensacola
Muslim Association Hawaii, 1935 Aleo Pl, Manoa Vly 947-6263
Nuuanu Congregational, 2851 Pali Hwy 595-3935
Our Lady of Peace Cathedral, 1184 Bishop St 536-7036
Primarie Episcopal, 739-0440
St. Andrews Cathedral, Beretania @ Alakea 524-2822
St. Augustine, 130 Ohua Av 923-7024
St. Clement's Episcopal, 1515 Wilder Av 955-7745
St. Constantine & Helen Greek Orthodox 521-7220
St. Elizabeth, 720 N King 845-2112
St. Mark's Episcopal, 539 Kapahulu 732-2333
St. Peter's Episcopal, 1317 Queen Emma St 533-1943
Sts. Peter & Paul Catholic, 800 Kaheka 941-0675
Temple Emanu-El, 2550 Pali Hwy 595-7521
Unity Church, 3608 Diamond Head Circle 735-4436
Waikiki Baptist, 424 Kuamoo 955-3525
Waioli Chapel, 2950 Manoa Rd 988-5800
Word of Life, 544 Queen 528-4044
FITNESS
Clark Hatch, 536-7205
Honolulu Club, 543-3900
Powerhouse Gym, 432 Keawe St. 532-8000
Punahou Fitness & Spa, 949-0026
Still & Moving Center, 1024 Queen Street, 397-7678
24 Hour Fitness, Kapi'olani 973-4653
YMCA Central 941-3344
SPAS & SPORTS CLUBS
Hawaii Yacht Club, Ala Wai Harbor, 944-9666
Mandara Spa, Hilton Hawaiian Village, 949-4321
Na Ho'ola Luxury Spa @ Hyatt 921-6097
HOSPITALS
Castle Medical Center, 'Ulukahiki St, Kailua, 263'5500
Kaiser Moanalua, 3288 Moanalua Rd, Honolulu, 432-5100
Kapiolani Medical Hospital, 1319 Punahou St, Honolulu, 983-6000
Kuakini Hospital, 347 North Kuakini St, Honolulu, 536-2236
Medical Corner Kapolei, 890 Kamokila Blvd # 102, Kapolei, 676-5000
Pali Momi Medical Center, 98-1079 Moanalua Rd, Aiea, 486-6000
Pearl City Urgent Care, 1245 Kuala Street, Pearl City, 456-2273
Queens Hospital, 1301 Punchbowl St #1, Honolulu, 538-9011
Straub Clinic & Hospital, 888 South King St, Honolulu, 522-4000
Tripler Army Medical, 1 Jarrett White Rd, Honolulu, 433-2778
Wahiawa General, 128 Lehua St, Wahiawa, 621-8411
REALTORS, PROPERTY TOURS
Hugh Damon,  Coldwell Banker Pacific Properties, 808-782-2104
Renee Christine Kam, Coldwell Banker Pacific Properties, 808-927-5525
Carlton K. Chang, 808-735-3700