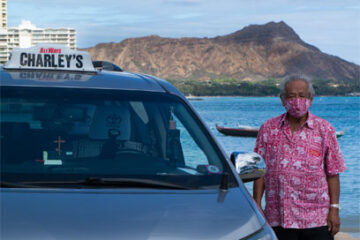 SERVICE WITH ALOHA
Charley's Taxi has provided transportation services to Hawaii since 1938. As a 3rd generation, woman-owned business, we are proud to be Hawaii's premier transportation provider. For more information about our standards for safety, customer service, and cleanliness, please visit our About Us page.
FEES AND TAXES
Many transportation companies impose fees that we don't believe in. Here are some examples of fees that you won't pay with Charley's Taxi:
NO surge pricing, EVER!
No "Booking Fee" ($1.50)
No "Safe Ride Fee" ($1.50)
No "Late Fee" ($5 after 2 minutes)
No "No-Show Fee" ($5 after 5 minutes)
No "Credit Card Fee" ($3.00)
No "Mandatory Tip" (20%)
Charley's Taxi does collect or pass on:
Waiting time at pick-up: Ten minutes after the agreed upon pick-up time, driver will charge $15 to wait ten more minutes.
Waiting time at a store or other en-route stop: Driver will end the ride, collect payment, and restart the meter.
Deadhead fee: for pick-ups at far out places (i.e. Polynesian Cultural Center) we will contact you by phone to collect a prepayment of the estimated fare for your ride. Once the driver is dispatched to your pick-up, half of the charge is non-refundable should you then cancel the ride. The amount you prepaid is credited to your ride.
Parking fees. For example, at hospitals, businesses, and the airport.
City and State "Destination" taxes, which may apply to both pick-up and drop-off. For example, at Aloha Stadium, Pali Lookout, Moanalua Gardens, and Diamond Head.
Airport Pick-up Tax (for pick-up service only): 7% State tax is added to the final* meter or flat rate fares.
State General excise tax: 4.712%.
Passengers who damage or soil the taxi will be responsible for the cost of repairs and/or OSHA compliant cleaning.
* "final fare" means the meter fare after discounts are applied for kamaaina, seniors, persons with special needs. ID is required for kamaaina and senior (65+) discounts. Discounts are not applicable to flat rates.