AWARDS & RECOGNITIONS
CHARLEY'S TAXI IS RECOGNIZED FOR ITS COMMITMENT TO QUALITY AND PROFESSIONALISM, as evidenced by ongoing customer letters, media attention, prestigious industry awards, and community citations. Ride with the trusted leader, and see for yourself how, setting the highest taxi, tour transportation industry standards for quality and professionalism in Hawaii, Charley's has earned its sterling reputation.
TripAdvisor Certificate of Excellence (now called Travelers' Choice  Award) — Travelers consult TripAdvisor to plan and book the perfect trip. Now in its 9th year, the Certificate of Excellence designation recognizes establishments that consistently earn great TripAdvisor reviews from travelers. The Certificate of Excellence accounts for the quality, quantity and recency of reviews submitted by travelers on TripAdvisor over a 12-month period. "This recognition helps travelers identify and book properties that regularly deliver great service. TripAdvisor is proud to play this integral role in helping travelers feel more confident in their booking decisions," says Vice President of Industry Marketing, Heather Leisman.


Center for Safety Equity in Transportation — Charley's Taxi and its state-of-the-art driving simulator recently collaborated with CSET and University of Hawaii on a research project with the goal of improving traffic safety in Hawaii. CSET's letter of appreciation can be read in full here.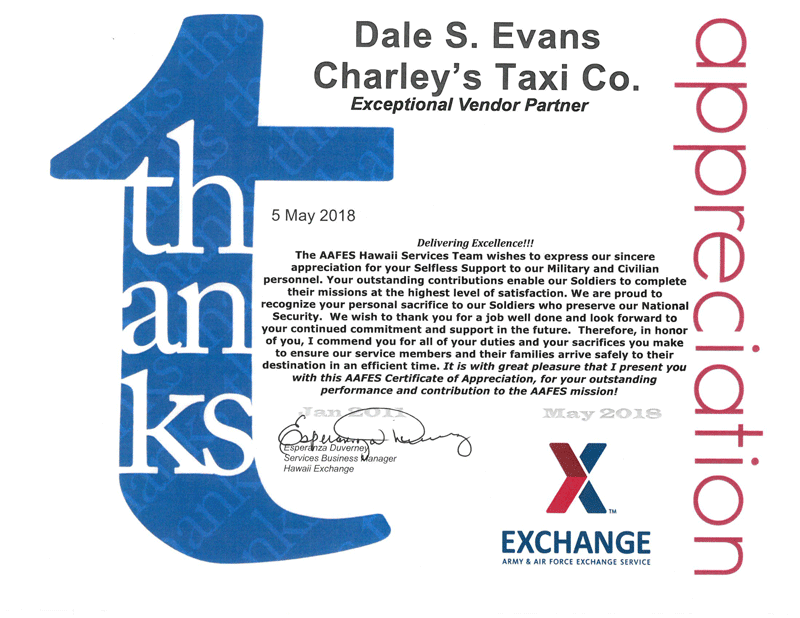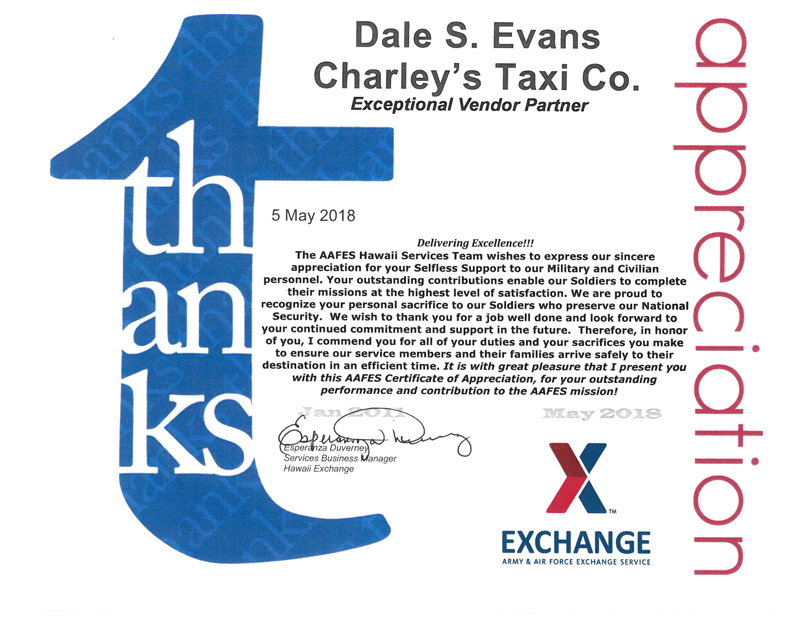 AAFES Exceptional Vendor Partner — Charley's Taxi is proud to share this Certificate of Appreciation from the AAFES Hawaii Services Team, our valued partners in serving Hawaii's soldiers. We strive every day to ensure that our military and civilian personnel has access to safe and reliable transportation on and off Oahu's military installations.
Na Po'e Pa'ahana Award —  The Hawaii Hotel & Lodging Association honored Charley's Taxi with the Na Po'e Pa'ahana Award (The Hardworking People) for the Supplier of the year category for 1994-95 for the State of Hawai'i in recognition of outstanding efforts in performing its job and for supporting the community. Charley's is the only taxi company to win this award.
Hokule'a Award — "The Voyage of Teamwork and Dedication in Achieving Quality and Service Excellence" from the Hilton Hawaiian Village, 1997
Strategic Partnership Recognition — Japan Travel Bureau's Oli Oli program wins Japan's Award of Excellence – Charley's is cited as Oli Oli Taxi, December 10, 1998
The People's Choice — Honolulu Magazine listed Charley's Taxi in "How to Live Better and Cheaper in Honolulu."
"Isn't doing a job with real heart what good work is about?" Feature story by Lee Cataluna, Jan 6, 2002, the Honolulu Advertiser
"When Cabs come clean as a Whistle" Feature story by Stu Glauberman, Honolulu Advertiser Feb. 20, 1995
"The Companies we Keep," Amazing stories about 450 of Hawaii's best known companies, by Bob Sigall, features Charley's Taxi, pp. 119-121.
Strategic Partnership Recognition — The Hilton Hawaiian Village was awarded the first annual Hawaii State Award of Excellence at the third Hawaii Conference on Quality in 1996. Strategic partnerships with companies such as Winners at Work and Charley's Taxi helped the Hilton in its endeavors of quality.
Visitor Aloha Society of Hawaii Certificate of Appreciation — This award is presented to Dale Evans on behalf of the Board of Directors of The Visitor Aloha Society of Hawaii, in appreciation of your contribution. Your continued support helps perpetuate the VASH mission, to share Aloha with visitors who have been victims of a crime or other adversities, and to follow-up with assistance and support in an effort to create a positive memory of their stay in our islands. September 29, 2004.
A Welcome Rainbow After a Storm – Jan/Feb 2022 Generations Magazine story about VASH and its important work.
Brand Strategy Group, May 2000
The team of Garvey and Gramann recognize Charley's three generations of creating a quality brand.
"We've long been fans of Charley's Taxi — not just because they get us to the airport in fine style when we need to go there, but because they really understand the BIG idea behind the power of the brand. Run by three generations of strong women (we like that, too!), Charley's has spent more time than any transportation company we know understanding what its customer wants and delivering it. Charley's drivers all go through a training program developed by Dale Evans, and there are written standards of cleanliness,honesty, behavior and dress that are strictly observed. That's why Charley's has won prestigious contracts like Hilton Hawaiian Village's and Aloha Tower's. At those places and others around town, you'll see Charley's drivers with their late model cars, spiffed out in clean white shirts, bright red ties and big friendly smiles. That's also why Charley's repeatedly wins awards from the visitor industry and others.
Dale Evans, her mother Helen Morita, and her daughter Darci know that inside/out delivery of consistent, excellent services translates into a powerful brand.
As Darci wrote, 'If you're ever in the vicinity of Foodland Ala Moana some afternoon, you may see my grandmother, who is 86 dispatching taxis from her car. It's actually pretty cute. As Ala Moana Shopping Center is upgrading and expanding, the traffic there has been horrendous, making it more difficult for taxis to get in and cover the stand…so to ensure that customers get speedier service, Grandma will watch the stand from her car and either cell phone the dispatchers or radio taxis in. (Now that's what I call service).' Our hats we
never wear are off to Helen Morita, her daughter Dale Evans and her granddaughter, Darci: Three women who really understand the power of the brand!"
City & County of Honolulu Citation, 1997
The Honolulu City Council honored Charley's role in improving the standards of personnel in the visitor industry: "Charley's Taxi and Tour is the first and only taxi company in the nation that has drivers who have completed and are certified in courses that enhance their skills in history, culture and language."Honolulu City Council's CERTIFICATE HONORING CHARLEY'S TAXI & TOURS:Charley's was recognized in 1997 for improving the standards of personnel in the visitor industry. "For many visitors to our state, the first impression of Hawai'i could set the tone for the entire trip — it could be something as insignificant as a short half hour drive from the airport to Waikiki or their initial destination. A personable as well as knowledgeable quality in the individual who is driving them will indeed make a difference to create a positive experience in Hawai'i.More than 150 taxi and limousine drivers and concierge from Charley's Taxi and Tour have taken the personal initiative to complete a training program aimed at upgrading the standards of personnel in the visitor industry. The training programs are part of a private-public partnership movement and are voluntary on the part of the employers and employees. The three programs are:
Professional Standards for Hawai'i's Tour Driver/Guides
Taxi Taxi in Japanese
Ho'okipa Aloha Council's Multi-Cultural Training Program
Charley's Taxi and Tour is the first and only taxi company in the nation that has drivers who have completed and are certified in courses that enhance their skills in history, culture and language. This sizable accomplishment demonstrates Charley's sincere commitment to improving the skills of their drivers and concierges, as well as the drivers' desire to provide excellent, well-rounded service to the visitor.
On behalf of the People of the City & County of Honolulu, the Council commends Charley's Taxi & Tour for their exemplary role in improving the standards of personnel in the visitor industry. Further, the Council would like to acknowledge and commend the drivers and concierge for their commitment to excellence and service by participating in and completing these training programs."
Honolulu Magazine
Charley's Taxi listed in the "How to Live Better and Cheaper in Honolulu" edition.
Chamber of Commerce Hawai´i
"The Chamber of Commerce of Hawai´i recognizes Dale Evans for her personal commitment to serving the land transportation needs of O´ahu's people and increasing public awareness of vital transportation issues."