AIRPORT TRANSFER AND PRIVATE TOURS
Relax and get the most from your visit to Oahu by letting us do the driving. Each package includes a round trip Airport transfer to/from Waikiki and excursions to and from Oahu's most popular attractions in style. We have three packages to choose from.
AIRPORT & EXCURSIONS PACKAGE 1 – Hanauma Bay
Airport Arrival and Departure transfers
Round trip to USS Arizona Memorial Visitor Center
Round trip to Ala Moana Center
Round trip to Hanauma Bay with stop for Malasadas on the way out and a stop at Waiola Shave Ice on return to Waikiki. Driver will wait nearby as you purchase and enjoy your local treats before resuming your excursion.
From Waikiki – $549
AIRPORT & EXCURSIONS PACKAGE 2 – Kualoa Ranch
Airport Arrival and Departure transfers
Round trip to USS Arizona Memorial Visitor Center
Round trip to Ala Moana Center
Round trip to Kualoa Ranch. Includes two brief stops. On the way to the Ranch we'll stop for a photo opportunity at Chinaman's Hat at Kualoa Park. On the return trip we can stop at Menehune Mac if you wish. The samples are very enticing.
From Waikiki – $549
AIRPORT & EXCURSIONS PACKAGE 3 – Scenic Tour
Airport Arrival and Departure transfers
Round trip to USS Arizona Memorial Visitor Center
Round trip to Ala Moana Center
Half day scenic tour: Nuuanu Pali Lookout, Waimanalo, Makapuu, Halona Blow Hole, Kahala, Diamond Head Lookout.
From Waikiki – $549
---
Tour Add-on Option: Ask your driver to drop you off at the Maui Divers Jewelry Design Center for a complimentary 20-minute tour and gift. The tour includes a short film about the discovery of Hawaii's precious corals and you'll see skilled artisans as they create authentic Hawaiian and pearl jewelry. Maui Divers will return you to your Waikiki hotel after the tour.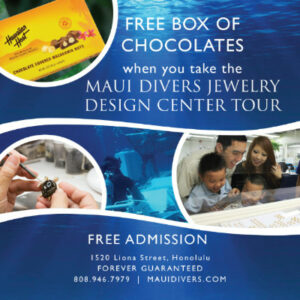 Please call us at 808-947-0077 to arrange an Excursion Package.
Our concierge will help you plan your airport transfers as well as the departures for each part of your Package. For your return trips, please call 808-233-3333 or book via our App (iOS or Android). Please note: it may take 20-30 minutes for your return taxi to arrive at attractions like Pearl Harbor, Kualoa Ranch, and Hanauma Bay.
Not included in package prices:
Attraction Admission fees. We can arrange admission to attractions on your behalf if you wish. Just let our concierge know when you plan your excursions.
Malasadas and Shave Ice.
Fresh flower lei greeting $9 per person additional
---
Excursion Package trips do not include extra stops or route deviations unless specified. Driver will charge regular meter rate for the trip if any extra stops or route deviations are requested. No other discounts apply. Gratuities and G.E. Tax not included.
Airport Transfer maximum capacity is 4 passengers with bags (1 suitcase & 1 carry-on per person). No other discounts apply. Gratuities and G.E. Tax not included.
Please see bottom of the page for further restrictions.
---
CHARTER TOURS
For a truly personal experience, you can charter a private tour to the destinations and attractions of your choosing. Your personal driver will take you anywhere you want to go and be on call for as long as you need.
Charter rates:
Minivan:          $65
SUV or Limo:  $97
Sprinter Van:  $106
SUV Limo:      $120
Rates are hourly and do not include 15% tax or gratuity.
MORE UNIQUE DESTINATIONS
Commissioned for construction by King David Kalakaua, 'Iolani Palace is the only royal palace in the United States. Construction was completed in 1882, and featured electricity, indoor plumbing, incandescent lighting, and telephones, making it one of the world's modern structures of the 19th century. Following extensive research and structural and furnishings restoration, the palace was reopened to the public as a museum in 1978.
The Pacific War Memorial
The Pacific War Memorial is a bronze replica of the National Iwo Jima Memorial at Newington, Connecticut. Dedicated on March 16, 2002 at Marine Corps Base Hawaii, Kaneohe Bay, the monument immortalizes the timeless photograph depicting the raising of the American Flag at Mt. Suribachi during the WWII Battle of Iwo Jima.
Still & Moving Center is a peaceful oasis in the midst of bustling Kaka'ako, perfect for relaxing, rejuvenating, and enriching body and mind. A comprehensive wellness center, Still & Moving offers over 70 classes/week including Yoga, Tai chi, Meditation, Aerial Yoga, Belly dance, Nia and more. Hawaiian cultural activities are led by a traditionally trained Kumu Hula, including Hula and the healing practice of Lomilomi massage.
Pu'u o Mahuka Heiau State Historic Site
The Pu'u o Mahuka Heiau, or "hill of escape," is the largest heiau on Oahu. Overlooking beautiful Waimea Bay, this two-acre ancient Hawaiian temple provides a spectacular panoramic view of the North Shore to Kaena Point.
La'ie Point
Located on a small peninsula just past the Polynesian Cultural Center, La'ie Point offers expansive panoramic views of the Windward Coast, Koolau Mountains, and parts of the North Shore.
The Byodo-In Temple sits just below the 2000-foot Koolau Mountains in the Valley of the Temples. Built in the 1960's, this tranquil Buddhist temple is a replica of the 950-year old Byodo-In Temple in Uji, Japan. It was built to commemorate the 100th anniversary of the arrival of the first Japanese immigrant workers who came to work on the Hawaii sugar plantation fields.
Diamond Head Lighthouse
The original Diamond Head Lighthouse was constructed in 1899. Today, a reconstructed 55-foot lighthouse sits 147 feet above sea level, and marks the finish life of the biennial Trans Pacific Yacht Race that starts 2,225 miles away in Long Beach, California. Now operated by the US Coast guard, the lighthouse features 60,000 candlepower and 18-mile visibility.
Hanauma Bay Nature Reserve
Hanauma Bay Nature Reserve was once a volcanic crater that has been eroded by waves and time. Today, the protected cove has been transformed into a Nature Preserve and Marine Life Conservation District featuring pristine waters, vibrant coral reefs, and hundreds of unique marine life and fish including the majestic Honu (Hawaiian green sea turtle) and Humu-humu-nuku-nuku-apua'a (trigger fish).
Halona Cove and Blow Hole
Hiding along the scenic coastline of South Oahu is the Halona Cove and Blow Hole. A 30-foot geyser of ocean water erupts from an underwater lava tube. The small cove to the bottom right of the Blow Hole is the site of the love scene from the Burt Lancaster and Deborah Kerr movie From Here to Eternity.
Lyon Arboretum
The University of Hawaii Lyon Arboretum is a lush, 200-acre botanical garden located in upper Manoa Valley. Featuring spectacular island trees, flora, birds, and wildlife, the Lyon Arboretum and Botanical Garden is the only university botanical garden located in a tropical rainforest.
Once the family home of Anna Rice Cooke, the Honolulu Academy of Arts was founded in 1927, and has since become Hawaii's premiere art museum, with over 50,000 collected works. The Hawaii-style building, now registered as a National and State Historic site, was redesigned by New York architect Bertram Goodhue, and features off-white exteriors, tiled roofs, and airy showcases that highlight the museum's mission style.
This experience is much like touring a microbrewery/winery. Participants taste fresh cacao fruit when in season, learn about the bean-to-bar manufacturing process, taste test with our team of Chocolate Sommeliers, and enjoy a chocolate tea service. Visitors will come away with a great appreciation for the growing craft chocolate movement as well as Hawaii's emerging cacao and chocolate industry.
Pu'u 'Ualaka'a Park
Pu'u 'Ualaka'a Park on Mt. Tantalus offers sweeping panoramic views of southern Oahu, including Diamond Head, Waikiki, downtown Honolulu, Punchbowl Crater, and the Honolulu International Airport. This is also the famous picnic spot featured in the Elvis Presley film Blue Hawaii.