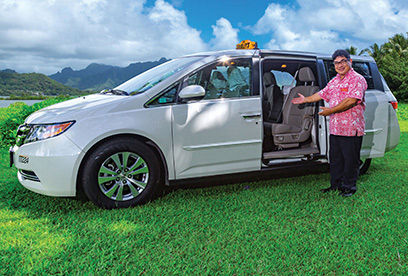 Pearl Harbor
Don't wait for shuttles or tour buses that will drive you all over town. We'll take you directly to Pearl Harbor Visitor Center in the privacy of your own air-conditioned taxi. Give us a call 15-20 minutes before you're ready to head back to Waikiki or Ko Olina and we'll pick you up right where we dropped you off. Click here for map image of taxi loading zone.
With our low flat rates, we're the fastest, most economical way to or from Pearl Harbor.
Waikiki to or from Pearl Harbor: $39 per car  (Typical meter fare is $52)
Ko Olina to or from Pearl Harbor: $55 per car
Flat rates are per car, not per person, so for a party of six the cost starts at $6.50 per passenger.

You can book your Flat Rate to Pearl Harbor here or call 808-233-3333 to make a reservation.
 
Please be aware of the USS Arizona Visitor Center's Bag Restrictions: Due to security reasons, NO purses, backpacks, fanny packs, diaper bags, camera bags, luggage or other items that provide concealment are allowed in the Visitor Center. Please do not leave valuable items in your vehicles. Bag storage is available at the entrance to the Visitor Center for a fee of $3 per bag. Visitors may bring in their wallets, cameras (no large camera bags are allowed), cellular phones, and water bottles. Baby carriages and wheel chairs are also permitted.

Discounted Flat Rates are one way, per car, and do not include extra stops or route deviations. Driver is required by law to run the meter on Flat Rate trips and will adjust final meter rate down to the appropriate Flat Rate at the end of the trip. Driver will charge regular meter rate for the trip if any extra stops or route deviations are requested. Pearl Harbor Flat Rates are valid for up to 6 passengers. No other discounts apply. Gratuities and G.E. Tax not included.

Due to traffic congestion and delays, Charley's Taxi will suspend Flat Rates and revert to taximeter rates on Halloween, Black Friday, and New Year's Eve (from 3pm on 12/31 to 3am on 1/1). We may also suspend Flat Rates 2 hours before, during, and 2 hours following major Holidays, Sporting Events, Concerts, and major road closures.

Passengers who damage or soil the taxi will be responsible for a $350 cleaning fee.