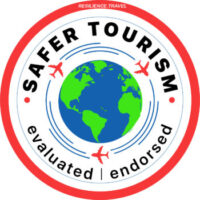 Safer Tourism seal
Charley's Taxi was recognized by Resilience Travel for its high standards and commitment to safety on August 17, 2020. In these incredibly difficult times for everyone and every sector of our economy, the travel industry must do its utmost to safeguard all aspects of the traveling experience. And of course we need to demonstrate our commitment to safety to our customers. It is for that reason that we are honored to be recognized for our efforts with the Safer Tourism Seal.
Safer Tourism safety and security experts evaluated Charley's Taxi and found the company to be a model for transportation and taxi businesses. The Safer Tourism seal takes into account a company's customer service and safety protocols and how those have adapted to the COVID-19 pandemic.
As seen by more than 650,000,000!
Jason Mraz's music video for his hit song "I'm Yours" recently surpassed 650 million views. This lovely video showcases the beauty of Hawaii, and one of our long time drivers, Alex Nguyen. Check it out.
Charley's Taxi invests in innovative technology in the pursuit of safety and service.
Charley's Taxi's Dale Evans: Leading Her Industry by Example
Dale Evans knows the taxi business. The well-known Honolulu businesswoman has been around the industry her whole life.
Her mother, Helen Morita, co-founded Charley's Taxi & Tours with Dale's father, Charles in 1938.
Click here to read the entire article…
In memory of Ernie Harris.
Ernie was a regular customer up until he passed away. He was a featured "actor" in one of our ads. We are extremely proud of his service to the citizens of the USA; he is resting at Arlington Cemetery. We truly appreciated his support of our drivers. Download HawaiiNewsNow story (PDF)
When Cabs Come Clean As A Whistle
Hawaiian Village, Charley's roll out their best image
(reprint from The Honolulu Advertiser, February 20, 1995)
By Stu Glauberman, Advertiser Tourism Writer
Only 60 of the newest and shiniest of 250 Charley's Taxis are good enough to pick up guests at the Hawaiian Village Hotel. Taxi drivers working the Hawaiian Village concession are responsible for making sure their cars sparkle inside and out, carpets are vacuumed and the seats have clean, white cotton head-rest covers. Click here (PDF) to read the entire article…
From the Honolulu Advertiser 1/6/2002 – "The well-dressed man led the frail little lady to the car. He made sure she was safe inside, smiled at her, closed the door, folded up the walker and put it in the trunk. As they pulled away, I got a better look at the car. It was a Charley's taxi. That man wasn't her son at all. He was a medicab driver…. Sure, the cab driver was being paid to walk the woman to her car, but it was the way he did it, with care and good humor, that was so amazing to witness." Click here (PDF) to read the entire article…
Passing
Charley's Taxi co-founder dies at 94 – Helen Morita (1913-2008), slight of build and always wearing a twinkle in her eye, was an imposing figure of business transportation as these links testify:
Topix: Helen Hifumi Morita set the pace
Star Bulletin: Helen among first women leaders in U.S. transportation history
Helen Morita is survived by a sister; two daughters; a son; eight grandchildren; 17 great-grandchildren; and four great-great-grandchildren.
'Auntie Myrtle' recalls her days as a singing taxi driver 
(from The Honolulu Advertiser, January 18, 2002)
By Wade Kilohana Shirkey, Advertiser Staff Writer
Seems like a no-brainer: Hawaiian music in the taxis that ferry tourists from the airport to Waikiki. For Charley's Taxi, it was a recent, innovative concept. In an effort to build ridership while paying tribute to Hawai'i's musical heritage, Charley's signed up with Mountain Apple, a company based in Honolulu that records many well-known Hawai'i entertainers, and arranged to play the company's titles. Click here to read the entire commendation…