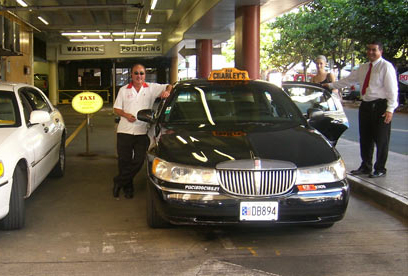 TAXICABS
Taxicabs are available at either hourly or metered rates.
10% discount to Seniors, Military and all Emergency
Responders (Discount does not apply to Flat Rates).
EXECUTIVE CARS & MINIVANS
Rates for full-sized luxury cars and minivans are the same as for taxicabs. Over two-thirds of our fleet is less than
5 years in age. Executive cars and minivans are immaculately clean with white cotton headrests on seats. Please
reserve in advance for this upgraded service.
LIMOUSINES, MOTORCOACHES, TROLLEYS AND MORE
Make a special occasion even more memorable. Luxury limousines come in various sizes and are equipped with
video entertainment systems. Have a really big group? We can also coordinate buses and trolleys.
Please note, passengers who damage or soil the taxi will be responsible for a $250 cleaning fee.
USEFUL NUMBERS
VISITOR ATTRACTIONS
Academy of Arts, 900 Beretania 532-8701
AIRPORT, Flight & Visitor Info 836-6413
Alii Kai Catamaran, Pier 5 539-9400
Aloha Stadium, Flea Market, 99-500 Salt Lake Blvd., 486-9300
Aloha Tower, Pier 10 537-9260
Bishop Museum, 1525 Bernice St. 848-4129, 847-3511
Byodo-In Temple, 47-200 Kahekili Hwy 239-8811
Chinatown Cultural Plaza, 100 N. Beretania St 521-4934
Chinese Consulate, 2746 Pali Hwy 595-6347
Contemporary Museum, 2411 Makiki Hts. Dr 526-0232
Dragon Garden Bonsai Nursery, 41-909 Mahailua St. Waimanalo 259-6886
Diamond Head Lookout
Diamond Head Theatre, 520 Makapuu Av 733-0274
Dole Pineapple Plantation, 64-1550 Kam Hwy., Wahiawa, 621-8408
Foster Botanical Garden, 180 Vineyard Bl 522-7065
Hanauma Bay, 7455 Kalanianaole Hwy, 396-4229 ext. 0
Hawaii Children's Discovery Centre, 111 Ohe St 524-5437,
Hawaii Convention Center, 1801 Kalakaua Av 943-3500
Hawaii Maritime Museum, Pier 7 536-6373
Hawaii Plantation Village, 94-695 Waipahu St 677-0110
Hawaii State Art Museum, 250 S Hotel 586-0300
Hawaii Theatre, 1130 Bethel 528-5535
Hawaii Visitors & Convention Bureauv, 2270 Kalakaua Av 923-1811
Hawaiian Railway Society, 91-1001 Renton Rd 681-5461
Hickam Air Force Base, 449-1083
Hilo Hattie's, 700 N Nimitz Hwy 537-2926
Happy Trails Hawaii, 59-231 Pupukea Road, Haleiwa, 638-7433
Hawaii Nautical Inc., 46-471 Hololio St., Kaneohe, 234-7245
Honolulu Zoo, 151 Kapahulu Av 971-7171
Ho'omaluhia Botanical Garden, 45-680 Luluku Rd 233-7323
Iolani Palace, 364 S King St 538-1471, 522-0832
Japanese Consulate, 1742 Nuuanu Av 543-3111
Japanese Cultural Center, 2454 S Beretania 945-7633
Kaneohe Bay Cruise, Heeia Pier 235-2888
Kapiolani Park
Kewalo Basin
Ko Olina Ocean Adventures and Luau, Ko Olina Marina, 396-2068
Kualoa Ranch, Kaawa 237-8515
Lyon Arboretum, 3860 Manoa Rd 988-0456
Manoa Valley Theatre, 2833 E Manoa Rd 988-6131
Maui Divers Jewelry Center, 1520 Liona St 946-7979
Marriage License Bureau, 1250 Punchbowl St 586-4545
Mission Houses Museum, 553 S King 531-0481
Moanalua Gardens, 1352 Pineapple Pl 833-1944
Neal Blaisdell Center, 777 Ward Av 591-2211
Nuuanu Pali Lookout
Pacific Aviation Museum, Historic Ford Island 441-1000
Paradise Cruise, 1540 S. King, 983-7827
Pearl Harbor Navy Base, 449-7110
Polynesian Cultural Center, 55-370 Kamehameha Hwy. Laie 293-3333
Punchbowl National Cemetery, 2177 Puowaina Dr 532-3720
Queen Emma Summer Palace, 2913 Pali Hwy 595-3167
Sea Life Park. 41-202 Kalanianaole Hwy 942-3100, 259-7933
Senator Fong's Plantation, 47-285 Pulama Rd 239-6775
Shangri-La c/o Academy of Arts 532-8701
State Capitol
Sunset Beach, North Shore
Tantalus, Puu Ualakaa Park
UH East West Center, 1601 East-West Road, 944-7111
Stan Sheriff Center, University of Hawaii, Dole Street
U.S. Army Museum, Kalia @ Saratoga Rd 955-9552
U.S. Immigration & Naturalization Service, 595 Ala Moana Bl
U.S. Passport Service, State Dept. Federal Bldg 522-8283
USS Arizona Memorial 1 Arizona Memorial Place, 422-0561
USS Bowfin Submarine Museum, 11 Arizona Memorial Dr 423-1341
USS Missouri Memorial, Arizona Memorial Dr 973-2494
Wahiawa Botanical Garden, 1396 California Av 621-7321
Waikiki Aquarium, 2777 Kalakaua Av 923-9741
Waimanalo Beach Park
Waimea Valley Park, 59-864 Kamehameha Hwy, Haleiwa, 638-766
Wet & Wild Hawaii, 91-400 Farrington Hwy 674-9283
DINING
(B=Breakfast, L=Lunch, D=Dinner)
12th Avenue Grill, 1145 12th Ave. 732-9469
3660 On the Rise, 737-1177
Alan Wong's, 1857 S. King, 949-2526
Arancino Beachwalk, 255 Beachwalk, 923-5557
Assaggio, Ala Moana Center, 943-3446
Azure, Royal Hawaiian Hotel, 923-7311
Bali by the Sea, Hilton Hawaiian Village, 949-4321
Beachhouse at the Moana, 2365 Kalakaua Ave., 924-4799
Benihana of Tokyo, Hilton Hawaiian Village 955-5955 LD
Buzz's Original Steakhouse, 413 Kawailoa Rd., Lanikai 261-4661
Cafe Maharani, 2509 S. King St. 951-7447
Chart House, Yacht Harbor 941-6669 D
Chef Chai, 1009 Kapiolani Blvd., 585-0011
Chef Mavro, 1969 S. King, 944-4714
Duc's Bistro, 1188 Maunakea St., 531-6325
Duke's Canoe Club, Outrigger Waikiki 922-2268 BLD
Hanohano Room, Sheraton Waikiki 922-4422
Hard Rock Cafe, 280 Beachwalk, 955-7383
Hale Vietnam, 1140 12th Ave. 735-7581
Hiroshi's, Resaurant Row, 533-4476
Hoku's, Kahala Hotel 739-8780
House Without a Key, Halekulani Hotel 923-2311
Indigo Eurasian Cuisine, 1121 Nuuanu Av., 521-2900 LD
Jameson's, 62-549 Kam Hwy, Haleiwa 637-4336
Kincaid's Chops, Steaks, Ward Warehouse 591-2005 LD
La Mer, Halekulani Hotel, 923-2311
Liliha Bakery, 580 N Nimitz Hwy., 537-2488
Little Village Noodle House, 1113 Smith St., 545-3008
Maguro-ya, 3565 Waialae Av., 732-3775
Mariposa at Neiman Marcus, 951-3420 LD
Million Korean Restaurant, 626 Sheridan St. 596-0799
Miyako, New Otani Kaimana Beach, 921-7077
Morton's Steakhouse, Ala Moana 949-1300, 522-0832
MW Restaurant, 1538 Kapiolani #106, 955-6505
Nobu Waikiki, 2233 Helumoa Rd., 237-6999
Ono Hawaiian Food, 726 Kapahulu Ave., 737-9275
Orchid's, Halekulani Hotel, 923-2311
Outrigger Canoe Club, 2898 Kalakaua Av., 923-2585 BLD
Pacific Club, 1451 Queen Emma St., 536-0836 BLD
Paesano, Manoa Marketplace 988-5923
Pagoda Floating Restaurant, 1525 Rycroft St., 941-6611
Plaza Club, 900 Fort St. Mall, 521-8905 BLD
Plumeria Beach House, Kahala Hotel, 739-8761
Roy's, 6600 Kalanianaole Hwy, Hawai´i Kai 396-7697
Ruth's Chris Steak House, Restaurant Row, 599-3860
Ruth's Chris, 226 Lewers St., Waikiki, 440-7910
Ryan's Grill, Ward Center, 591-9132
Side Street Inn, 1225 Hopaka St. 591-0253
The Signature Prime Steak & Seafood, Ala Moana Hotel, 949-3636
Suntory, Royal Hawaiian Shopping Center, 922-5511
Surf Lanai, Royal Hawaiian Hotel, 923-7311
Sushi Izakaya Gaku, 1329 S. King St. 589-1329
Tango's Contemporary Café, 1288 Ala Moana Blvd., 593-7288
Todai's Seafood Buffet, 1910 Ala Moana Blvd., 947-1000
Vino Bistro & Wine Bar, Restaurant Row 524-8466
Waikiki Yacht Club, Ala Moana Park 955-4405
Waioli Tearoom, 2850 Manoa Rd., 988-5800 BL
Willow's Restaurant, 901 Hausten, 952-9200
Yanagi Sushi, 762 Kapiolani Blvd., 597-1525
Yohei Sushi, 1111 Dillingham Blvd., 841-3773
GOLF
Ala Wai Golf Course, Kapahulu 296-4653
Bay View Golf Club, 45-285 Kaneohe Bay Dr 247-0451 x3
Coral Creek Golf Course, 91-1111 Geiger Rd, Ewa Beach 441-4653
Ewa Village Golf Course, 91-050 Ft. Weaver Rd 296-2000 x6
Hawaii Country Club, 94-1211 Kunia Rd 621-5654
Hawaii Kai Golf Course, 8902 Kalanianaole Hwy 395-2358
Hawaii Prince Golf, 91-1200 Ft Weaver Rd 944-4567
Hoakalei Country Club, 91-1001 Kaimalie St., Ewa Beach 853-4346
Honolulu Country Club, 1690 Ala Puumalu St 833-4541
Kapolei Golf Course, 91-701 Farrington Hwy 674-2227
Ko Olina Golf Club, 92-1220 Aliinui Dr 676-5300
Koolau Golf Course, 45-550 Kiomaole Rd 247-8873
Leilehua Golf Course, Bldg. 6505 Leilehua Rd Wahiawa 655-4653
Makaha Country Club, 84-627 Makaha Valley Rd 695-7111
Mid Pacific, 266 Kaelepulu Dr 261-9765
Mililani Golf Course, 95-176 Kuahelani Av 623-2254
New Ewa Beach Golf Course, 689-6565
Oahu Country Club, 150 Country Club Rd 595-3256
Olomana Golf Links, 41-1801 Kalanianaole Hwy 259-7926
Pali Golf Course, 45-050 Kam Hwy 266-7612
Pearl Country Club, 98-535 Kaonohi St 487-3802
Royal Hawaiian Golf Club, 770 Auloa Rd 262-2139 x1
Royal Kunia, 94-1509 Anonui 't 949-1088
Ted Makalena, 93-059 Waipio Access Rd 296-2000
Turtle Bay Resort, 57-091 Kam Hwy 293-8574
Waialae Country Club, 4997 Kahala Av 734-2151 x 221-3
Waikele Golf Course, 94-200 Paioa Pl 676-9000
West Loch Golf Course, 91-1126 Okupe 296-2000
SHOPPING
Ala Moana Shopping Center 946-2811
Aloha Tower Marketplace 566-2337
Tagami & Powell Gallery & Gardens, Kahaluu 239-8146
Cedar Street Galleries, 817 Cedar 589-1580
Chinese Cultural Plaza, Beretania & Maunakea 521-4934
DFS Galleria, 330 Royal Hawaiian Av 931-2655
Harry's Music Store, 3457 Waialae Av 735-2866
Hilton Hawaiian Village 949-4321
Honolulu Pen Shop, 1857 S King 946-8968
Hula Supply Center, 1050 Ala Moana Suite 1000, 941-5379
Interior Accents, 788 S King Street, 523-5553
Kahala Mall, 4211 Waialae Avenue
Kamaka Ukulele, 550 South St 531-3165
Kilohana Square, Kapahulu 737-2547
Manoa Marketplace 988-0520
Martin & MacArthur, Ala Moana Center 941-0074
Maui Divers Jewelry Center, 1520 Liona St 946-7979
McCully Shopping Center, McCully @ Kapiolani 955-7377
Neiman Marcus, Ala Moana Center 951-8887
Nohea Gallery, Ward Warehouse 596-8688
Pearl Ridge Center 488-0981
Restaurant Row 538-1441
Robyn Buntin Oceania & Asian Gallery, 848 S Beretania 523-5913
Royal Hawaiian Shopping Center 922-0588
Waikele Premium Outlet 676-5656
Ward Centers 591-8411
Windward Mall Kaneohe 235-1143
CRUISES & DINNER SHOWS
Alii Kai Catamaran Dinner Cruise
Legends in Concert, Rock-A-Hula, Royal Hawaiian Theater, 2201 Kalakaua Bldg B, 4th Floor, 1-855-805-7469
Magic of Polynesia starring JOHN HIROKAWA, Holiday Inn Waikiki Beachcomber, 2300 Kalakaua Av., 539-9400
Star of Honolulu, 983-7827
Te Moana Nui, Pacific Beach Hotel, 441-4880
CHURCHES & CHAPELS
Aloha Ke Akua Chapel, 47-507 Kamehameha Hwy,
Watabe. Blue Lagoon, 2685 N Nimitz Hwy (behind DAV Ctr)
Calvary by the Sea, 5339 Kalanianaole Hwy 377-5477
Central Union Church, 1660 S Beretania 941-9057
Christian Science Church, 1508 Punahou 949-8403
Diamond Head 7th Day Adventist, 828 18th Av 737-1234
Honolulu Central 7th Day Adventist, 2313 Nuuanu Av 524-1352
Epiphany Episcopal, 1041 10th Av 734-5706
First United Methodist, 1020 S Beretania 522-9555
Gloria Garden, 3050 Monsarrat Av 735-5500
Haiku Gardens, 46-336 Haiku Rd .247-0605
Honolulu Community Church, 2345 Nuuanu Av 595-7541
Kawaiahao Church, 957 Punchbowl 522-1333
Latter Day Saints Church of Jesus Christ 737-5974
Makiki Christian Church, 829 Pensacola
Muslim Association Hawaii, 1935 Aleo Pl, Manoa Vly 947-6263
Nuuanu Congregational, 2851 Pali Hwy 595-3935
Our Lady of Peace Cathedral, 1184 Bishop St 536-7036
Primarie Episcopal, 739-0440
St. Andrews Cathedral, Beretania @ Alakea 524-2822
St. Augustine, 130 Ohua Av 923-7024
St. Clement's Episcopal, 1515 Wilder Av 955-7745
St. Constantine & Helen Greek Orthodox 521-7220
St. Elizabeth, 720 N King 845-2112
St. Mark's Episcopal, 539 Kapahulu 732-2333
St. Peter's Episcopal, 1317 Queen Emma St 533-1943
Sts. Peter & Paul Catholic, 800 Kaheka 941-0675
Temple Emanu-El, 2550 Pali Hwy 595-7521
Unity Church, 3608 Diamond Head Circle 735-4436
Waikiki Baptist, 424 Kuamoo 955-3525
Waioli Chapel, 2950 Manoa Rd 988-5800
Word of Life, 544 Queen 528-4044
FITNESS
Clark Hatch, 536-7205
Honolulu Club, 543-3900
Powerhouse Gym, 432 Keawe St. 532-8000
Punahou Fitness & Spa, 949-0026
Timmy's Gym, 591-9494
24 Hour Fitness, Kapi'olani 973-4653
24 Hour Fitness, Waikiki 971-4653
24 Hour Fitness, Downtown 545-5510
YMCA Central 941-3344
SPAS & SPORTS CLUBS
Ampy's European Spa, 1441 Kapiolani #377, 946-3838
Hawaii Yacht Club, Ala Wai Harbor, 944-9666
Ihilani Spa, Ko Olina 679-0079
Mandara Spa, Hilton Hawaiian Village, 949-4321
Na Ho'ola Luxury Spa @ Hyatt 921-6097
Spa Olakino @Waikiki Beach Marriott 924-2121
HOSPITALS
Castle Medical Center, 'Ulukahiki St, Kailua, 263'5500
Kaiser Moanalua, 3288 Moanalua Rd, Honolulu, 432-5100
Kapiolani Medical Hospital, 1319 Punahou St, Honolulu, 983-6000
Kuakini Hospital, 347 North Kuakini St, Honolulu, 536-2236
Medical Corner Kapolei, 890 Kamokila Blvd # 102, Kapolei, 676-5000
Pali Momi Medical Center, 98-1079 Moanalua Rd, Aiea, 486-6000
Pearl City Urgent Care, 1245 Kuala Street, Pearl City, 456-2273
Queens Hospital, 1301 Punchbowl St #1, Honolulu, 538-9011
Straub Clinic & Hospital, 888 South King St, Honolulu, 522-4000
Tripler Army Medical, 1 Jarrett White Rd, Honolulu, 433-2778
Wahiawa General, 128 Lehua St, Wahiawa, 621-8411
REALTORS, PROPERTY TOURS
Hugh Damon, CCIM, SRES, RB-18388 Coldwell Banker, damonhawaii.com, 808-782-2104